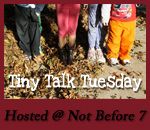 I keep forgetting to keep track of Cricket's cuteness, but this is what I remember her saying this week:
Cricket went to visit her Great Grandmother, Memaw, with her Grandmother, Mimi (can you tell we are southern?). Anyway, when she got back I asked her about her visit. She talked mostly about Memaw's puppy Sissy. I asked her how Sissy was doing, and Cricket said "better, she didn't jump as much." Then I asked her how Memaw was doing, Cricket looked at me a little confused and said "Good, she wasn't acting ALL CRAZY like Sissy."
Cricket was talking to her Mimi about her birthday, and she told her she wanted a bike for her birthday. Mom told her that sounded good, and Cricket asked "Mimi will you get me a bike?" Mom said, "Isn't that what you told your parents you wanted?" Cricket replied "Yes, but they don't know what kind I want." Mom and I both got the feeling she was covering her bases, better to end up with two bikes than no bike right?
Be sure to see what others are saying at
Not Before 7