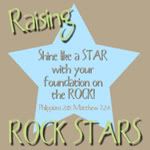 The memory verse for this week was:
Verily, verily I say to you, he that believeth on me hath everlasting life. John 6:47
Cricket and I have been ding a lighter version of school lately, but this work remains the highlight. She just really loves and connects to the power points.
She liked the V vocabulary this week, and enjoyed writing the Vs on these cards. This is interesting, because she is less than enthusiastic about other writing work.
Be sure to see what other families are doing with their Rock Stars at
1+1+1=1.